Membership Criteria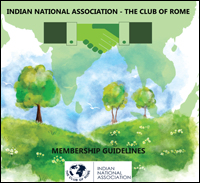 Be a member of The Club of Rome-India

Be visionary and future focused, capable of spending most decision-making time looking forward, focusing mostly on the ends rather than the means.
Be a systems thinker, seeking to understand the root causes and forces that shape the issues and challenges faced. He or she must look for courses of action that will exert the highest possible leverage as he or she responds to those issues.
Have an entrepreneurial spirit, understanding the Trust must operate within a fast changing world and, therefore, must be open to new ways of meeting the vision, values and principles established by The Club of Rome-India.
Be open to taking risks, balancing the need to take chances with the traditional stewardship responsibilities of The Club of Rome-India service.
Be a good communicator, understanding the importance of effective communication at all levels and willing to organize The Club of Rome-India accordingly.
Seek creative ways to connect The Club of Rome-India to the world around him or her, exploring and imagining new forms of partnership and alliances that will support The Club of Rome-India vision, mission and advance the issues identified in the strategic plans.
Have a deep appreciation of the strength of diversity, understanding that diversity helps to assure a higher level of responsiveness and promotes creativity, innovation and organizational learning. This is often accomplished by assuring that there are members who have personal experiences that speak to the diversity of the beneficiaries.
Be committed to making The Club of Rome-India a learning organization, effectiveness will be greatly enhanced if there are systems, practices and structures in place that promote learning on an individual and organizational basis.
That all members demonstrate the tenets of The Club of Rome on an individual level, with humility and a spirit of service to do what is best for the whole at all times.